We're so excited to talk about our products!
Complete the form below and we'll be in touch soon!
Want to increase sales, reach new customers and drive repeat business? Our add-on products for growing your business can help. Is saving time and money your priority? Then our restaurant operations products are for you.
Choose from a range of add-on products to expand your core POS, for a true all-in-one solution that helps you do more, sell more, and save more. When all of your critical restaurant technology works together seamlessly in one system, your business can run more efficiently.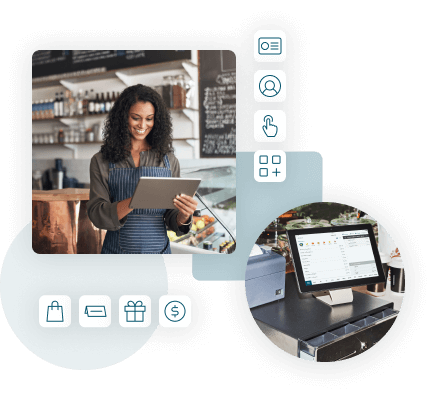 Easily accept bookings, manage capacity, and give every guest the star treatment with TouchBistro Reservations – the complete reservations and guest management platform.
Make it easy for customers to order takeout and delivery directly from you, and keep 100% of the profits* with TouchBistro Online Ordering.
Build awareness, drive immediate cash flow, and give guests another reason to return with customizable physical and digital gift cards for your restaurant.
Automate custom marketing campaigns and promotions so you can engage the right customers, with the right message, at the right time.
Turn first-time guests into regulars, and regulars into promoters with a loyalty program and CRM platform that helps you create personalized and rewarding experiences for every customer.
Get peace of mind with a payments solution that offers transparent pricing. TouchBistro Payments allows you to accept payments of all kinds and ensures you never miss a beat – even if the internet goes down.
What Customers Say About TouchBistro's Restaurant Management System
We've used many traditional POS, but decided on TouchBistro because it is mobile and has much better customer service. TouchBistro is more efficient than our previous POS – it takes less time to enter orders and close out checks.
TouchBistro Online Ordering is so much easier to set up and use than our previous system. It's quick, easy, and reliable. I also love that customers can order directly from our website – I did the basic math on third-party delivery apps and saw what they would charge me to deliver my product and quickly decided I didn't need or want that. I'm really pleased with the system and our customers seem to be too!
As a result of our TouchBistro Marketing campaigns, customers have increased their average ticket size as much as 30 percent. Some customers have even doubled their frequency of visits
TouchBistro Loyalty has definitely helped us drive repeat business. Our quality of food is what gets people in the door, but by being able to offer points and discounts, we've been able to keep them coming back again and again.
"Easy to set up and operate. It's out of the box and running in no time. The reports are great and very helpful when making menu changes and pricing decisions. The cloud portal means I can look at the information from anywhere."
© Copyright TouchBistro 2022